Quality
Beyond

Question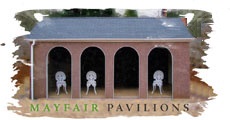 Mayfair Garages represent the ultimate in sectional concrete buildings. With over 50 years experience in the garage business, we are confident that we offer a product that is unrivalled in quality and appearance - one that will enhance even the most prestigious of properties.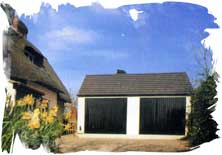 Better by Design
At Mayfair we never compromise on quality. Our garages use only the highest grade materials, combined with a state-of-the-art computer controlled manufacturing process. Our panels are thicker and higher than the competition - and all our garages feature a real traditionally tiled roof, and are available in a choice of five aggregate finishes to perfectly complement your home.
A Practical Investment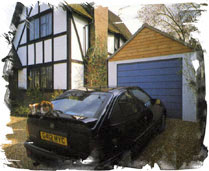 Unlike most major purchases - a car, television etc. - buying a Mayfair garage is an investment in the truest sense of the word, and could actually increase the value of your home! A recent survey by the Nationwide building society showed that a single garage typically adds 7.7% to the value of a home and a double garage could add as much as 14.5%! Add that to the potential savings on your insurance premium from safely storing your car in a Mayfair garage and you have an investment that you simply can't afford not to make.
Expert Aftercare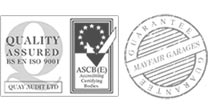 We believe that buying your garage is just the beginning of your relationship with Mayfair. Our highly trained team of sales agents are always on hand to offer help at every stage, from the initial planning through to final construction. We can even provide site surveys and drawings where necessary. Your garage could be delivered and erected by our team in as little as three weeks from order!
All our garages are virtually maintenance free, meet all relevant fire and safety standards, and come complete with a 15 year guarantee!